The Inspiring People Awards 2017 were created following the success of 2016's Inspiring Women Campaign
The awards were a fabulous opportunity to say thank you to your local hero – male or female – and a chance to give neighbours, friends, colleagues and community figures the recognition they deserve. You were all invited to vote across a range of awards categories; Inspiring Sportsperson, Inspiring Community Work, Inspiring Environmentalist, Inspiring Person Under 21, Inspiring Person over 70 and Inspiring in The arts.
The winners were interviewed for a feature in issue 5 of re:story magazine and announced at a glam social soiree at Barnstaple's Boston Tea party which brought people from across the community together to publicise the vital work we do to support and keep families safe.
Inspiring community work
Lisa Wallis created ChemoHero in 2014 after being diagnosed with invasive breast cancer. After eight rounds of chemotherapy and radiotherapy, she wanted to 'make sure that everyone going through chemotherapy knows they are not alone'.
At the end of 2015 she had the news that her cancer had spread to the opposite side of her body. The tumour was removed and she had further treatment.
'As soon as I was re-diagnosed I realised that I needed to make having cancer have a purpose in my life so I began developing ChemoHero.'
Lisa, with help of businessman Steve Boden, began delivering ChemoHero Boxes of Kindness to the new chemotherapy Seamoor Unit at North Devon District Hospital. The feedback was wonderful.
'Our boxes are filled with useful and luxury items that help a patient through their first treatment. We pop in bottled water, health bars, bristle toothbrushes, pill pots, diaries, colouring in books and more.'
What inspires you? 'I am truly inspired by those who are given obstacles in their lives but who still manage to see good in life and use it to make great things happen to them.
'I have worked with supported learning students for just under 16 years and every day I see them overcome difficulties in their lives. It gives me such fight to grab each day I am given as, despite the cancer, I am truly very lucky.'
Describe yourself in three words. 'Determined, realistic, generous.'
Inspiring environmentalist
Martin Dorey started 2 Minute Beach Clean after the storms of late 2013 and early 2014.
'I felt so overwhelmed with the mess on the beach at Crooklets that I decided I should try and do something. Unfortunately I couldn't make it to all the local beach cleans so each time I went to the beach I started cleaning up a little and using the hashtag #2minutebeachclean. Somehow it got traction and became, for want of a better word, a "global movement"! It's bonkers.' The idea is now being used in Ireland, Israel, Puerto Rico, Norway, Spain and Greece, and 220 beach clean boards have been installed at beaches in Ireland and the UK.'
What inspires you? 'Anyone who posts their #2minutebeachclean. Then there's the idea of leaving this planet nicer than it was when I got here, if that's possible. That's enough to drive anyone, right?'
Describe yourself in 3 words. 'Dad, ocean-lover, writer.'
Inspiring in the arts
Actors Bill Buffery and Gill Nathanson (aka multi story theatre company) became inspired to set up Barnstaple's Fringe TheatreFest after taking part in Canadian fringe festivals.
'We absolutely loved the Canadian festivals and decided that we could do it in our home town of Barnstaple,' says Gill. 'Of course, participation in a festival is very different to running one and our learning curve has been like the north face of the Eiger sometimes. With each year presenting its own new challenges, this award gives us the determination to keep pursuing new possibilities.'
What inspires you? 'Our team of 50 volunteers come back year after year to make TheatreFest happen – some people even take unpaid holiday to work on the festival,' says Bill. 'It's humbling and a reminder that it's people's kindness and selflessness that makes good things happen.'
Describe yourself in three words. 'Let's do it!'
Inspiring person over 70
At the age of 86, John Howell has acquired a lifetime of achievements.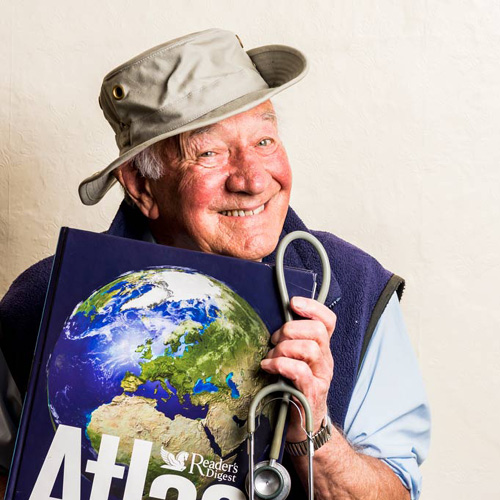 He's a rugby and hockey enthusiast (he's played at county level for Gloucestershire and West of England), a qualified pilot, a member of Heanton art group and chairman of the Chaloners Educational Foundation. And if that's not enough to inspire you, two years ago John Howell, 86, abseiled 90ft down St Augustine's church tower at Heanton Punchardon, in aid of North Devon Hospital Chemotherapy unit.
To say the octogenarian has lived an adventure-filled life is somewhat of an understatement. Having qualified in medicine in 1954 he served in the RAF in the UK, Far East and Europe with detachments to the Middle East, the Maldivian archipelago before working as a GP and assistant paediatrician at North Devon District Hospital. Along the way he's acquired five children, 11 grandchildren and four great grandchildren.
What inspires you? 'Other people's achievements.'
Describe yourself in three words. 'Very lucky man.'
Inspiring person under 21
Liv Bennett, who has been a member of Croyde Surf Life Saving Club for 11 years, started to help coach at Women on Waves at the age of just 14.
'The group was mainly made up of mums who wanted to learn sea safety and gain some confidence. Most wanted to learn so that they could take their children in the ocean safely.'
Liv enjoyed the coaching so much she volunteered to help at the Wave Project. 'The Wave Project is a charity organisation that helps disadvantaged children learn to surf and be safe in the sea. The young people who get referred to the Wave Project have a range of physical, mental or emotional disorders, and the surf therapy helps empower them and enable them to overcome challenges and develop self worth.' Liv also helped set up a girls' surf club called Wave Wahines.
What inspires you? 'Many people have inspired me, but foremost my older sister, Jasmine. She is always positive and so busy. She showed me that there is always time in the day to fit in something more.'
'I also found inspiration from one of my secondary school teachers, the late Olaf Rinvolucri. He showed unending passion and was never judgmental or dismissive of ideas, no matter how "out there" they were. He taught me that it's not about what you do, it's about how much love and enthusiasm you can put in to what you do.
'And, of course, the young people at the Wave Project, who show relentless determination and open-heartedness in the face of adversity.'
Describe yourself in three words. 'Enthusiastic, compassionate, free-thinker.'
Inspiring sportsperson
Marathon runner Peggy Crome, 73, took up jogging to help kick her smoking habit.
Discovering she adored being active, she decided to tackle a triathlon – one of the first people in the UK to do so. Since then, she has competed in tough triathlons all over the world – not to mention swimming in some pretty rough seas.
Peggy enjoys the camaraderie of the North Devon Triathlon Club and has represented Great Britain in the Age Group team. She has won many medals at both world and European level and, last August, completed the cycle ride from John O'Groats to Land's End with her granddaughter Hannah, 13.
What inspires you? 'A training schedule gives me something to get up for in the morning. Everyone needs something to get up for – mine used to be a cup of coffee and a cigarette. Now it's coffee and a swim, cycle or run. I am also inspired when people new to triathlon ask me how to get involved, where to start and how to progress.'
Describe yourself in three words. 'Difficult to describe myself but others might say, "inspirational, dedicated (to triathlon) and love a challenge" (oops that's eight).'